From stress to success – with Working Soft

You are an independent professional, with a busy business or a challenging job. You know your talents and you work hard. You put plenty of energy into pursuing your ambitions, but you wonder: am I doing it in the smartest way? Because it asks a lot of you. And sometimes – despite all your hard work – there simply doesn't seem to be enough coming out of your hands….
Do you recognize this?
You do want to work relaxed, but somehow you are always "running and flying.
Your time is full of things that have to be done
You open your laptop in the evening… and before you know it, it's late again
You're bursting with dreams and ideas, but you just can't seem to put them into practice
You feel that your work can be done differently. You want to. Yet you continue in the delusion of everyday life. To plop down on the couch in the evening, exhausted.
You are not the only one, struggling with this
Working hard seems to be a persistent addiction for many people. Pressure-pressure-pressure, meeting deadlines, toiling and sweating. Buffing hard … only to then do nothing, exhausted.
Working hard makes it difficult to grow structurally. And tell yourself: does it really make you happy?

Work can be done differently
Do you want to achieve more and grow faster?
Have energy and time to develop new plans and realize them?
Get more done in fewer hours?
Give more time and attention to your family, relationship and friends?
Enjoy your free time without that little voice in your head telling you that you still have work to do?
How nice would it be if your life was no longer that long traffic jam where everything seems to get stuck in endless hustle and bustle?
When that rush hour turns into a relaxing wave on which you are carried along and realize your dreams? So that struggle and scarcity turn into a generous abundance. An abundance of ideas, time, and realized dreams. Not by working harder, but rather by working softer.
There's good news for you: you can. You see, the best things are not achieved through hard work, but through soft work. This is how you take the step from stress to success. How does that work? I will explain it to you.

What is Working Soft?
Working Soft is the counterpart of hard work. You get to work with your talents in a relaxed way. And you creatively build the dreams you want to realize.
Working Soft starts with creating time. No more running and being late, but doing exactly what is needed in peace. While doing everything with attention, because you have plenty of time. Because you can make time.
Working Soft gives you all the time you need, always. You discover what gets in your way. Where are you, without seeing it yourself, a lifeless zombie? How will you, step by step, build and realize your dreams? Not later when you are retired, but now. Right now.
Marieke van Ginkel
Founder of
Drijvende Kracht leadership-programs
"I know what I'm doing. That gives peace of mind. I also have a much more entrepreneurial mindset now. I've learned that I often find myself keeping myself small. Now that I know that, I often consciously try to think bigger myself."
Sounds good? That's what it is
I know working hard from my own experience. My parents had their own business. They were always working hard and this resulted in a severe burn out (my mother) and a hart attack (my father). I felt it had to be possible to do things differently, do work in a different way. But how?
That became the exploration of my life.

I discovered all kinds of things. About taking responsibility, business models and being my own boss. But also about meditation, relaxing and realizing dreams.
I am rather impatient and energetic by nature. Sitting quietly meditating on a mat for long hours is not for me (although I did do several serious retreats). I want action. To get going. Get results. Now. But in a relaxed way. My way. Without limits, in complete freedom. And a generous life, on my terms. That's how I build Working Soft. Creating a beautiful company or making brilliant leaps in your career. Making a meaningful contribution to the world through your work.
It did not happen overnight

I worked hard on it for years, to work softer. Gradually I discovered how to do it. I wrote my book 'The art of working soft' about it. For weeks, the Dutch version of the book was in the top 100 best-selling books at managementboek.nl.
Apparently the book touched a nerve.
"`soon after my book was published, I received questions from readers. They asked if I could help them learn to work softe and whether a training course on it was available.
That's why I created the working-soft-online program
Especially for anyone who also wants to achieve more by working softer. Because you don't just learn working soft from a book. You have to do it yourself. In your own daily work. By doing the right things every day.
What is the Working Soft online program?
With this online program, you get:

A 12 week online training in which you will learn step by step how you yourself will achieve more by working softer. You will learn to make time, realize your dreams, build your business or your career and your life and create abundance. Dreams. But with a practical slant that translates directly to your situation.
Nine online modules, with theory and practical tips. After each webinar you get a concrete exercise that you can start working on immediately. One of the nine modules is all about online media: how to use them smartly and at the same time make sure they don't disturb you and consume your time. I share lessons from online experts with you! How do they get thousands of online fans for their business or do you use online media in your work precisely without being online all day?
With each module you will receive different exercises in the workbook. You pick out what fits your life and your style. This way you can work on the things that suit you in a relaxed way.
Immediately after your registration, you will receive the book "The art of working soft'. The book will be sent to you automatically through mail, so you can get started right away.
Yes, I want to Work Soft and start now
Because of its design, the program provides you with immediate time and peace of mind.
Therefore, you will have earned back your investment in no time.
One-on-one coaching included
Working Soft is not something you master overnight. The beginning is easy, but you can continue to master it throughout your life. That's why, as a participant in the program, you get access to my certified working-soft-coaches. As part of the online program, you can book 2 1-on-1 sessions with one of my experienced working-soft coaches. These sessions can be delivered worldwide through Zoom of video.
Would you prefer a personal 1-on-1 session that's not online? Or do you want more 1-on-1 sessions? That's also possible. Just sent us an email and describe the kind of support you would like to get, and the funding you have available. Together, we will discuss the best way we can support your growth towards realizing your dreams, while Working Soft.
What will you get with Working Soft?
Of course, you're not just going to follow a soft-work program. It has to pay off! Here's what you're going to accomplish:
Peace and focus. Attention to what you really care about in your life. You are going to fine tune your internal radio transmitter to the broadcast of your own life. So that you can enjoy your own life music without noise and busyness.
Get more results, achieve more in your work by working less hard.
Always master your time. You learn the magic of time. You discover how to never be short of time again and always have enough time. Because you start making time. This is how you get time in abundance. Always.
Starting to do your work your way so that your talents are maximized. So that you can make a maximum contribution and be of full service to others. But in a way that suits you. Without pressure or stress.
Realizing your dreams. It doesn't matter what your dream is: a trip around the world, writing a book, more clients or that promotion you've set your heart on. You'll discover how to get started on realizing your dreams step by step. Not later, but now.
The skills you learn with soft work are not quick hype that will be obsolete next year. They are skills that you will enjoy for the rest of your life. In your work and personal life. Why struggle or wait any longer when you can take a step now?
Who is Ellen?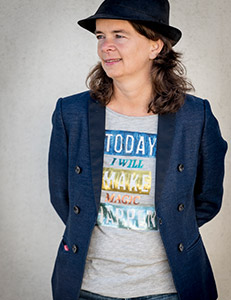 The working-soft-online program is taught by me, Ellen de Lange-Ros, PhD and Engineer. I help professionals grow faster by working softer. I have designed working soft to be suitable not only for entrepreneurs, but also for professionals with a job.
I wrote a dissertation at the University of Twente and worked for several large companies (such as KPN, TNT Post, Bosch-Siemens, Fujitsu, Heijmans). I have also helped many self-employed people get more fans and grow their business faster.
My parents were always busy and tense, partly because of their own business. As a child I already saw the advantages as well as the disadvantages of too much busyness. The company went bankrupt, my father developed heart problems and became disabled.
I learned that business ambitions are great, but there can also be great risks and disadvantages. So I started looking for a different way of doing things myself. I wanted it all. Challenges ánd freedom.  A good income and plenty of free time. That was not easy, but over time I discovered what works.
I now have a healthy business with plenty of clients. I earn a wonderful income. I also have a lot of free time. My youngest no longer has to go to after-school care because my husband or I are home. We take long summer vacations, during which I have time and energy to write a book. I do several sports (running and Aikido) and both my children and husband also do two sports.
All these things are possible thanks to my business and with work soft.
Because you can't learn working soft only from a book, I give practical trainings and help you to take concrete steps in your own practice.
Your investments in time and money

Investing time (and creating time)

The Working Soft online program requires an investment of time and money. The program lasts 60 days, which is 9 weeks. Much of the time you spend on the program is not homework or study time, but it is regular work time spent in your business or job. However, now you are engaging in your work in a very different way. So you learn while you work. This way, the program does not cost you too much time, but it gives you immediate benefits.
Besides the working time in your company or job, there are 9 online modules of about 60-90 minutes. The assignments from the webinars provide you with skills and insights that you can immediately apply in your own work. In addition, you can spend time in the closed community to share your experiences and learn from others who are also working with soft work.
Because of its design, the program will save you time immediately. You will look at your time differently and learn to make time (you will learn this right at the start of the program in the first module). In this way you will immediately earn back the time the program costs you. Because you can make time. As a result, you get all the time you need. Always.

Your investment in money

It gets you more than it costs – much more
In addition to your investment in time, the program requires an investment in money. The soft-work online program is expressly linked to your business or work. It is not a motivational program that only deals with your mindset.
The soft-working-online-program costs € 797 for all modules, the book, and the additional 1-on-1 coaching sessions.
This makes the soft-work online program more than ever an incredibly smart investment.
Guarantee
I can imagine you are wondering if the program suits you. That's why I offer the following rock-solid guarantee with this gentle program:
Are you not satisfied after the second module or do you find it disappointing? Then report this within 24 hours after the second module and you will receive a full refund of your registration fee (and you can keep the book you received).
I offer you this guarantee because I am convinced that working softly also suits you and will help you. This way you can get acquainted with the program and directly experience what it means for you.
Will you grow faster by working softer?
Now that you've read all this, the ball is in your court. Are you going to take concrete steps now? Are you going to invest in yourself, in your business or your job, and learn to grow harder by working softer? Or would you rather stay busy with chores and hard work. The choice is yours. Which step will you take?
I wish you a beautiful business or career, with plenty of growth and soft work!
Ellen de Lange-Ros PhD

Frequently asked questions

Perhaps you still have questions about the program? Read below to see if your question is included. Don't have an answer yet? Feel free to contact Info@Faxion.nl to ask me your question.
Can I follow the program later? I'm busy with other things right now.
Are you too busy? Then it is precisely smart to start taking the soft work program on short notice. That way you will learn to make time and then you will always have enough time. But is it really not convenient for you to follow the program now? Then you can also purchase it now and follow it later. You can download all the materials and save them on your own computer.
Can I pay via credit card, iDeal or just wire transfer?
Yes. After your registration you will get all the information about payment. You simply choose how you want to pay.
I am not an entrepreneur, but work in salaried employment. Is the program suitable for me as well?
The program is suitable for self-employed professionals and those in salaried employment. If you don't have a business but a job, you will also get plenty of useful things for your own work out of it. There is even a specific bonus-modules about how to apply working soft, when you have a demanding job with colleagues and management who still work hard.
I live far away, in the east/north/west/south of the world. So do I have to travel far to follow the program?
Of course not! The program is entirely online and you can take it wherever you want. You can even do it abroad. The only condition is that you have an internet connection to receive the materials.
I work in a large organization and would like our entire organization to work softer. Can you give a program for our whole organization?
We do provide training within organizations often. I might do this myself and there are people to whom I can refer you, specially trained soft-work coaches by me who understand soft work completely. Contact me at info@faxion.nl if you want to know more.
I am a coach myself and love working soft. Can I use it in my work?
I am happy to help you with that. 'Zacht werken' (Working Soft in Dutch) is a trademark registered by me. You can't just use that, but I'd like your help to carry it forward. I cannot do that alone. I would also like to help you use soft work in your practice.
There are all kinds of opportunities to get started as a certified soft-work coach. I can help you with that, for example provide you with copies of the book 'The art of working soft', with your name and company details on the first pages. A book that shows that you are an official coach and that you can buy, at a reduced price, to use in your network and trainings.
As a certified working-soft-coach, you can also use existing exercises and modules from my soft-working programs. So together we can make soft-working a success, also in your company and with your clients. Want to know more? Contact me at Ellen@Faxion.nl.
Do you have another question? Please feel free to contact Info@Faxion.nl to ask your question.